Module 4 - Action Plan for Consistency
Welcome to Day 4!
Now that you have set your goals and broken them down into actionable steps, what is your plan for ensuring you do not fall off along the way?
What do you need to do to keep you on track and not put you back in the position where you are stuck again.
The most obvious thing is the Moms Achieving Purpose Academy group.
This group will help you to stay on track by helping you to build a habit of consistency throughout these 90 days.
But apart from this, work through the task in this module and see what you can come up with as your action plan for consistency.
Good wishes are not enough - you need to stay consistent to meet your goals.
Actions open doors. Consistency keeps them open - Rob Stanmore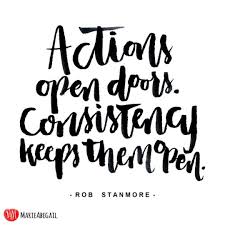 Let's know how you find today's task.
Drop your comments on the FACEBOOK GROUP.
See you!
Oluseye Ashiru.
90 DAY GOAL SETTING COURSE MODULE 4 - ACTION PLAN FOR CONSISTENCY.pdf