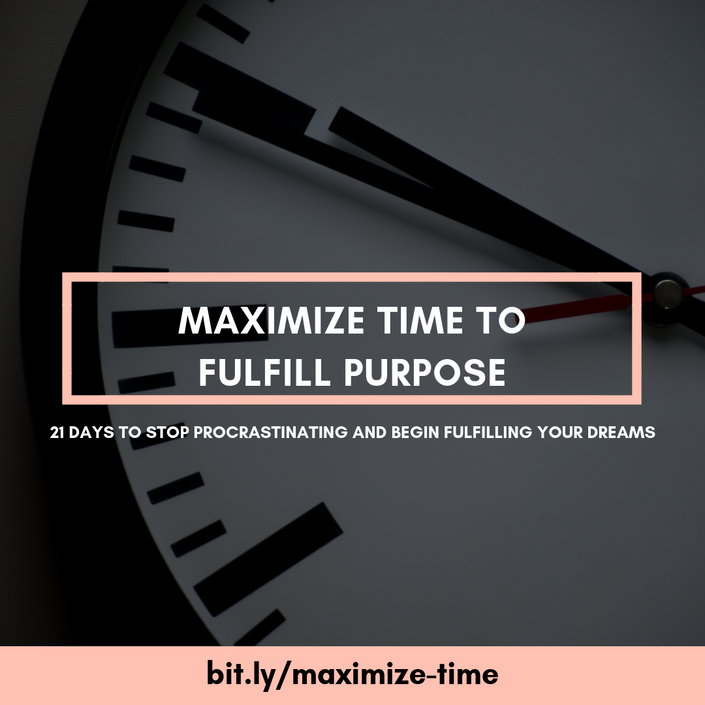 Maximize Time To Fulfill Purpose
21 Days To Stop Procrastinating and Begin Fulfilling Your Dreams
Watch Promo
Get from "I Wish I Could" to "Now, I am" in 21 Days.

I hear it all the time!
I can't focus on the things I would love to do.
I have great ideas but no time to focus on them.
I find myself always procrastinating on the things that matter to me.
I need the right push to make me stay committed and consistent with my dreams.
I know that if I got someone to guide me through or help me to be committed, I could achieve a lot.
I need to stop spending my time on unimportant tasks so I can focus on the things that matter to me.
It seems as if I'm always rushing through life tired and overwhelmed with all the things I need to do and I don't even get to the things I REALLY want to do!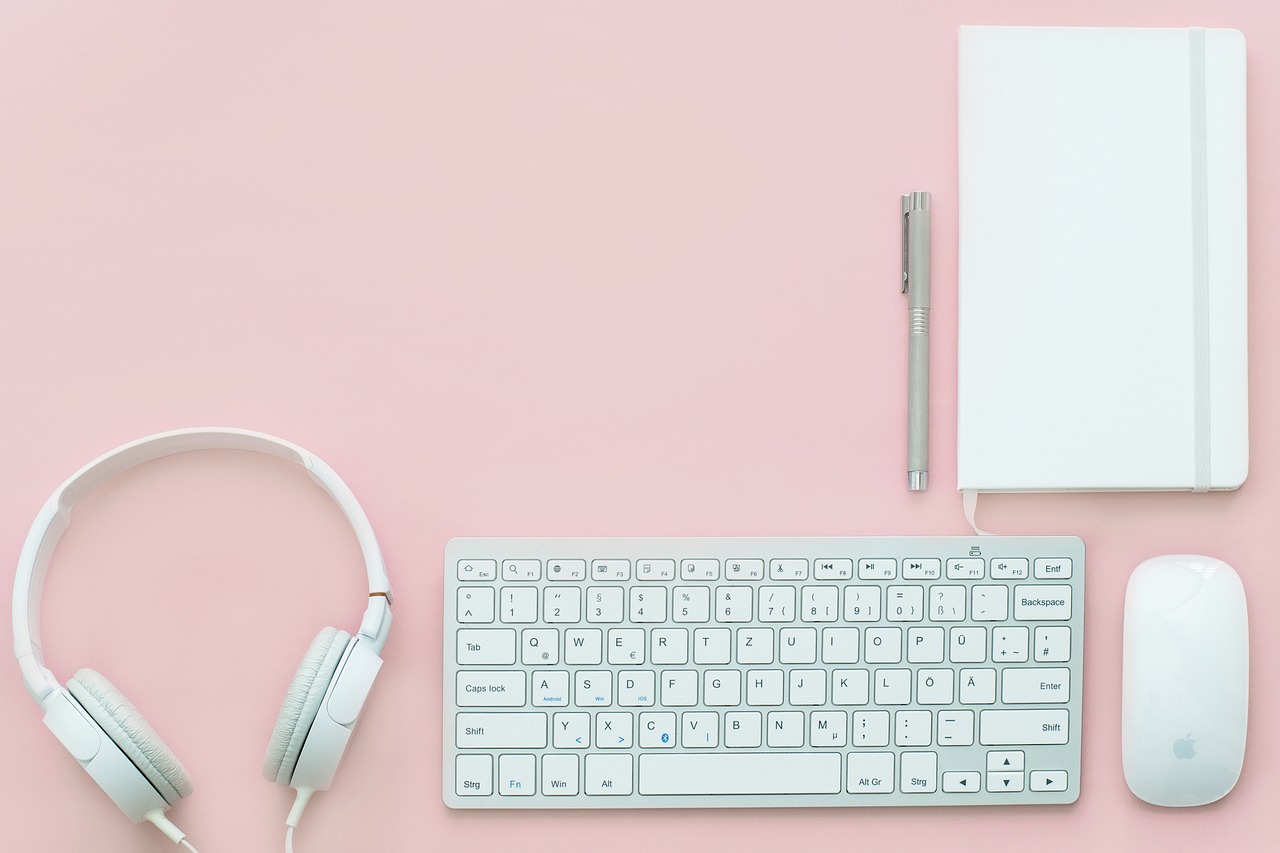 IF YOU ARE IN NIGERIA, YOU CAN CLICK HERE TO PAY ONLINE OR MAKE PAYMENT INTO
DIAMOND BANK PLC
MOMS ACHIEVING PURPOSE ACADEMY
ACCOUNT NUMBER - 0089798307
"I am a woman of many colors!
Often, confused with what to do all because I can't find myself focusing on one thing to its conclusion.
Then, God brought me in contact with Moms Achieving purpose Group on Facebook, where Discovering Your Purpose Online Course was advertised.

At first I was nonchalant about it even at discounted price! It is written that a fool is wise in his own eyes! And I was a typical example then, but, God is so faithful that He didn't let me go.

The night that preceded the start of the lecture, I was restless and I quickly picked up my phone only to go to the Facebook group where I started begging to enrol and Mercy spoke on my behalf, after enrolment has closed, God surely wanted me in and I paid in Full ( bad deal for a stubborn child😢)!

I stand to say that I am not done with myself, since, the course! I am still writing on my Journal.
For the first time, I sat down to think, to ask questions and review my life!
I am yet to recover!

My several resolutions that are undone, my many dreams that are in the dark began to Speak! Now, I know what I want to do to a large extent!

I tell you I am not done with Coach Oluseye!

I quickly enrolled for Maximizing Time to Fulfill Purpose Course, because, I found out I have to tackle time wastage and a lot of other things.

There are things that are not taught, they are acquired and Discovering your purpose course is one of them, cos, it skills you to streamline and focus!
Of what use are you jack of all trade and master of none!
Go for Clarity! We all need it!"
- Ify Ezeobidi
Are you always overwhelmed by the many tasks you have to do?
Is your time never enough to get important things done?
Are you spending all your time on things that do not matter to you?

Do you feel like you need help with getting back control of your time and your life?
Then, join this 21-Day journey to regaining control over your life.
There is never enough time to do everything on your 'to-do' list and there never will be.
People who are successful do not try to do everything - they only learn to focus on what is important and ensure that those things get done.

After this course, you will no longer feel the need to bail out, but you will find yourself able to achieve even more than you are at this time.

Using proven skills tailored to suit your particular situation, you will learn how to structure your daily tasks and activities better so that you can truly focus on what is important to your life.

You will be taught to think through, make the right decisions, have the discipline of follow through so that you will achieve those things that will move you closer to your life's purpose.

You will stop procrastinating and get more done in less time. You will not only get things done, but you'll get them done faster.
Stop Procrastinating and Sign Up for the Course Now!
If you are unable to use your card to sign up for the course using your bank card, kindly use the LINK BELOW.
To Sign up for the course, CLICK HERE
Or You can also kindly send an email to [email protected] indicating your interest in the course.
Course Curriculum
Before You Begin - Important Resources
Available in days
days after you enroll
Your Instructor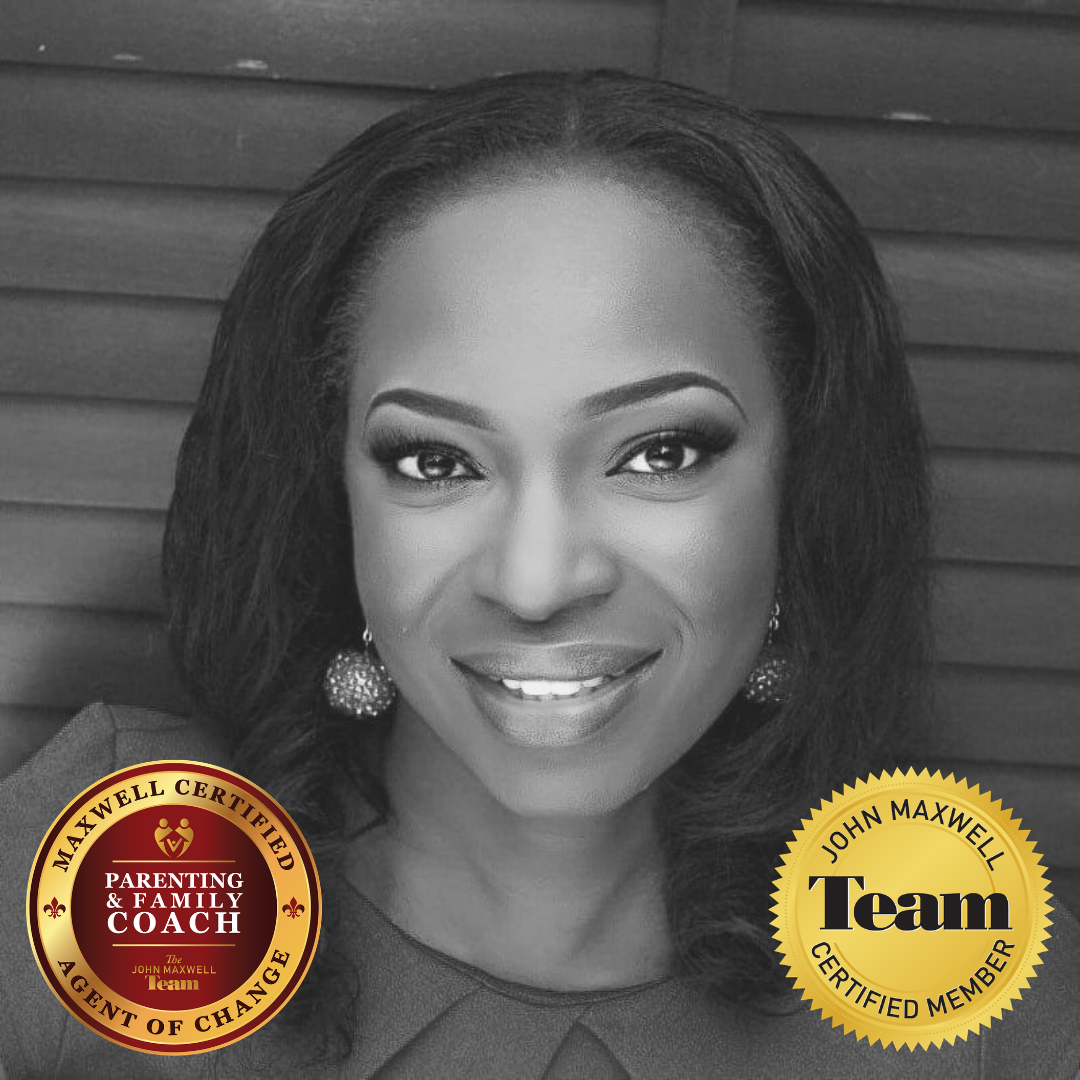 Oluseye Ashiru is the founder of Moms Achieving Purpose and also the Team Lead, Moms Achieving Purpose Academy.
As a Certified John Maxwell Clarity, Parenting & Family Values Coach, Trainer & Speaker, she is a woman passionate about helping women and in particular mothers discover, embrace and fulfill their God-given purpose and potentials. She believes that things happen when sleeping women awake.
She holds double Masters degrees in Actuarial Science and MBA with a stint in Finance, with other professional qualifications in Accounting, Payroll, Entrepreneurship and Theology.
Her career has spanned over 16 years in the private sector, social enterprise and entrepreneurial spaces.
Oluseye has authored 5 internationally published books, most of which are focused on women and mothers in particular. She has also taught, trained, mentored and coached over 10,000 women over the last 5 years through her Moms Achieving Purpose platform.
Using her offline and online platforms, Oluseye leads, mentors and influences women through her various initiatives - Moms Achieving Purpose, Moms Achieving Purpose Academy, Women Should Work Initiative, Moms Together Initiative, her podcast series, video teachings and other platforms.
She is also the convener of an annual inter-denominational conference for mothers, The Me in Motherhood Conference which has held annually since 2016.
Oluseye is a wife and mother of three children who are also passionate about supporting her through her work and who push her to be the best that God has in store for her.
She brings to the table her wealth of experience in her personal life, ministry and businesses.
Oluseye expresses her heart in writing, podcasting, providing clarity to small business owners through her think-thank initiative for Social Entrepreneurs and female-owned business owners "Women Should Work".
Through her blogging platform on her Moms Achieving Purpose Blog, she writes enlightening, insightful and very exciting articles for women about motherhood, faith, family and life.
She is also a contributing writer for other platforms such as "Thrive Global", 'HuffPost Parents', 'She Leads Africa', and a host of others.

While she is usually supported by other Academy faculty members, Oluseye will be the Lead Coach and Instructor on all the courses, training and programs on the Academy.
All those who have gone through her coaching programs have only good things to say about them and the results they have been able to achieve through her programs.
Frequently Asked Questions
When does the course start and finish?
This course begins whenever you are ready to start! It is a completely self-paced online course - but we encourage you to take action if you must get the best out of the course. It is recommended that you begin and run through un 21 days so you can get the best out of the course.
How long do I have access to the course?
You have full lifetime access to the course after your enroll in the course. This will give you the push you need to take action about the things you are learning. You also get access to a Complimentary Coaching from our Lead Coach during that period.
What if I am unhappy with the course?
We would never want you to be unhappy! If you are unsatisfied with your purchase, contact us with the issues and we will be glad to walk through it with you.
What do I have Access To on this Course?
You get full access to all course content for life. You get to download all course content and get lifetime access to it. You also have access to a Closed Private Discussion area for all our Academy members, to keep you accountable so that you can take action. Our Lead Coach & Instructor for this Course is Oluseye and she will also be available to guide you through the process and the entire 21 days of the course duration and also during the Complimentary 30-Day Coaching Period.
How Do I Make Payment?
If you are unable to make payment through the Enroll now button, you can also make payment into Our Nigerian Bank Account with details below: Moms Achieving Purpose Academy Diamond Bank Plc Account Number 0089798307
"When I first heard about this course, honestly speaking, I was skeptical, How can I begin taking action in 21 days on what I have been sitting on for 5 years? I had this idea to start a side business for so long and I kept dragging my feet on it. All I can say about this course is Wow! It was so much more than what I bargained for. I don't know how Oluseye does it. It was as if she knew exactly what to say to hit me where the real problem was. Thank you so much Oluseye. I am glad I have now started with this my idea and I even apply this to other areas of my life now"
- Adebola A., Co-Founder, Impressions (U.K)
"I got to be a part of the course the first time Oluseye introduced it after I took her Get Your Groove Back in God prayer course and she spoke about using your time wisely so you can pray better. I only wanted to join so I could plan my time better and pray more, but I got more than I bargained for. Now, using the principles she taught on the course, I have been able to pray better, have a better relationship with God and my family, gone back to school to do the Masters I have been dragging my feet on. This course was worth so much more than I paid for it. God bless you Oluseye for all you do for mothers"
- Jane Olubiyi, I.T. Professional (Benin, Nigeria)
Are Your Ready To Sign Up Now?
The Maximize Time to Fulfill Purpose Online Course contains:
21 Course Modules delivered over a 21-Day Period (Why wait till you begin to take action)

Intensive but completely self-paced journey.

Lifetime Access to Work Sheets and Course Content that will facilitate your learning process

Access to a closed group of course participants to keep you accountable during this period.

Bonus Access To My Ultimate Tool Kit ($197 Value)

Complimentary 30-Day Post-Course Coaching Session (Valued at $147)
I worked as a lawyer all my life and that was all I thought I was about until I received an email from Moms Achieving Purpose once. That email set me thinking that I had so many unfulfilled dreams that I had put on hold because of how busy I had been with my career and my family.
I signed up for the Maximize Time to Fulfill Purpose Course and the part that got me was that Oluseye did not just throw rules at us. She made us think deeply about ourselves and the things that truly mattered to us.
After that course, I was able to set my priorities right, plan better, use my time more wisely and now, I have time for my dream that I had left hanging for so long.
I can only say thank you to Oluseye for all she does to help moms.
- Adekiitan Lawal, Legal Practitioner (Abuja, Nigeria)
"I always had this desire to do start a business I could do from home. I did not really want to work outside my home. I knew what I wanted to do, but I just could not make time for it. I was so consumed with taking care of the home that I had no time for anything else.
I did not like the fact that I had no source of income of my own and when I heard about this, I just decided to try it out to see if it was the answer to my problem.
All I can say is that I got more out of it than I even came for. The level of confidence I have now to make plans and execute them without delay makes my husband look at me with renewed respect.
I will definitely recommend working with Oluseye. The course was amazing."
- Chioma O., Home Maker & Business Woman (Lagos, Nigeria)

If you are unable to SIGN UP with the ENROLL NOW button, You can Click Link Below TO SIGN UP
If You are in Nigeria (Your Card may Not Be Accepted with The Enroll now Button)

SIGN UP HERE OR MAKE PAYMENT INTO
DIAMOND BANK PLC
MOMS ACHIEVING PURPOSE ACADEMY
ACCOUNT NUMBER - 0089798307